Swapping intake manifolds on the D14A3 / A4 engines
<![if !supportEmptyParas]> <![endif]>
Note: this step is needed before doing the OBD1 swap on this engine!
<![if !supportEmptyParas]> <![endif]>
<![if !supportEmptyParas]> <![endif]>
The following how-to is written as a result of my personal IM (intake manifold) swap, but it might be used as reference for similar engine types as well, i.e. D14Z1, D14Z2, D16Y7 for example. I assume the intake manifolds for these engines all are practically the same. I will now refer to them as the D14A3 IM.
<![if !supportEmptyParas]> <![endif]>
First letís start with the reason why you should want to swap your intake manifold to D16Z6 (or D16Y8 for that matter). As you can see below the D14A3 IM (left) has very long restrictive runners and almost no plenum (the large tube that connects al 4 runners with each other). This gives us reason one, the airflow and so the performance will increase by swapping manifolds. Reason two is unexpected. I did not make any other major changes to improve the sound but the sound did improve because of the IM swap. The sound turned out much lower and the engine sounded grown up as to say so. One or two sound samples are linked at the bottom of this page. And yes there is reason three: if you like an OBD1 swap so you can get the full potential of 4 injectors, you need to swap the IM in order to support the IACV. Oh, want reason four? It looks much better under the hood! Letís continueÖ
†
<![if !vml]>
<![endif]>
Left the old D14A3 IM (with D14A4 gasket) and right the D16Z6 IM.
Shopping lists for the swap (parts I had):
-Intake manifold D16Z6 with TA sensor (Temperature Air).
-Fuel rail D16Z6 with all rubber rings for the injectors and with stock FPR.
-Throttle body from D15B7, D16Z6 just for the throttle cable pulley.
-Intake suitable for an side flow engine (D14A3 model is called downflow).
-Some spare hoses for coolant.
-Fresh coolant.
Parts I wished I had:
-Throttle cable D15B7 or D16Z6, it fits without metal craftmans-ship and is shorter (makes less of a mesh).
-Fuel hose D15B7 or D16Z6. Stock hose fits, but needs adjustment (see pictures).
-IACV from D15B7 or D16Z6.
-Intake manifold gasket. I was very lucky it came of in one piece and could be reused (very dumb).
You do NOT need:
-D16Z6 injectors, they are 240cc and current injectors are 190cc, keep 190cc.
-The D16Z6 throttle body itself. Stock TB is the same bore and is needed for the stock RACV.
<![if !vml]>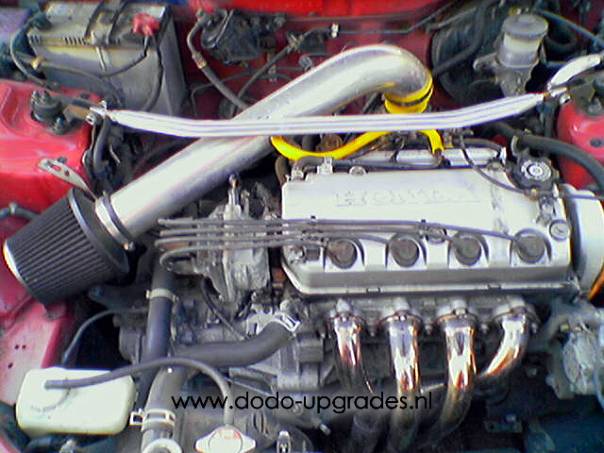 <![endif]>
The terrible Ďbeforeí look.
Start with draining some of the coolant. You might reuse it later but we (I and Rene, thanks for the help mate) threw it away and added some new coolant afterwards. Take of the strut bar, air inlet, fuel hose, all vacuum hoses (remember were they go!) and coolant hoses. In my setup all the coolant is short circuited into the block itself. No coolant reaches the intake manifold anymore so no unnecessary warming of the IM. If you do want to keep the coolant lines you have to extend some of them to the RACV (thatís the thing with two hose connectors on the D14A3 TB, see one of the pictures further on). The IACV on the D16Z6 is not important, it will not be connected and therefore it will be closed all the time. I did not knew this back then and so it was closed with a sheet of aluminium. Tip: I did not reuse the IAT sensor (see below) but plugged the wires using a new connector to the TA sensor. Just get a connector suitable for the TA sensor in the D16Z6 IM and plug over the two wires, it does not matter how you plug them. I did it to clean up the engine bay a little more, the TA sensor of the 5th gen Civics is placed low at the back of the IM. The IAT sensor of the 6th gen Civics is placed in full sight. (And to cover it up even better I bought a 5th gen intake tube with no hole in it).
<![if !vml]>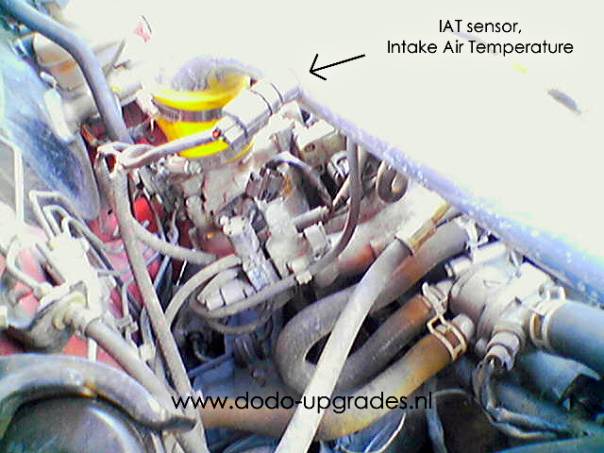 <![endif]>
Location of my IAT sensor. Stock inlets do have it else where.
<![if !supportEmptyParas]> <![endif]>
<![if !vml]>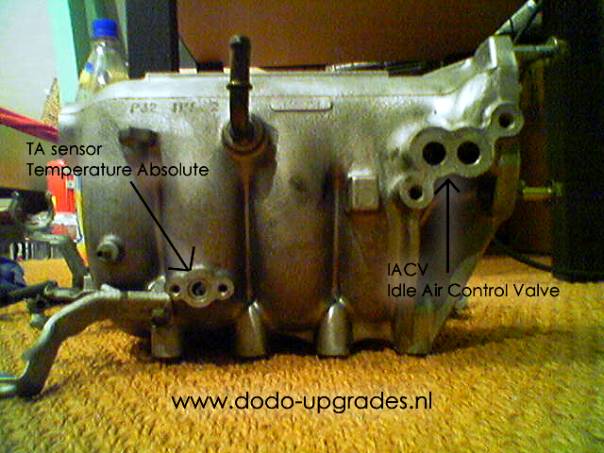 <![endif]>
Location of TA and IACV on D16Z6 IM.
Maybe some wires have to be cut and extended in order to get them to all the sensors on their new locations but no actual extending of wires was needed for my setup. Beneath is a picture that shows a terrible bolting location. With the D14A3 IM on it you can get to it very easy, just put your tools between runner 2 and 3 and unscrew. Getting the bolt on it after mounting the D16Z6 IM is a hell of a job and even worse when mounting D16Y8 or D15Z6 (and I assume D16Y5). A tip to give you a better chance: remove the unusable IM suppor. It will be too short anyway when using D16Z6 IM. My IM still hangs perfect in the engine bay after a year and a halfof extensive using (over 60.000 km).
<![if !vml]>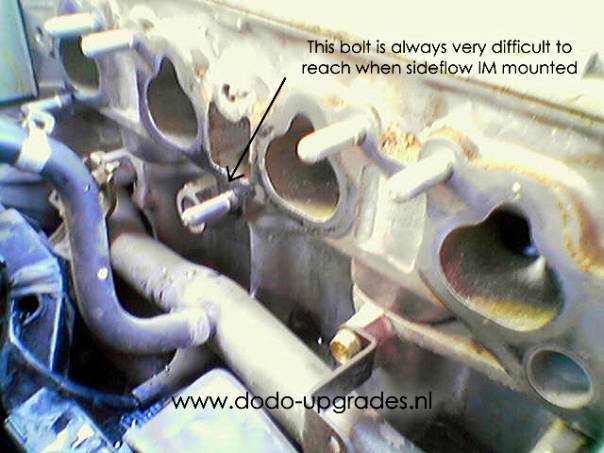 <![endif]>
Terrible bolt to tighten when a D16Z6 IM is placed. D15B7 IM almost gives the same trouble.
<![if !supportEmptyParas]> <![endif]>
The throttle body of the D14A3 should be reused, but the cable pulley needs to be swapped. Otherwise the throttle cable wants to run down instead of sideways.
<![if !supportEmptyParas]> <![endif]>
<![if !vml]>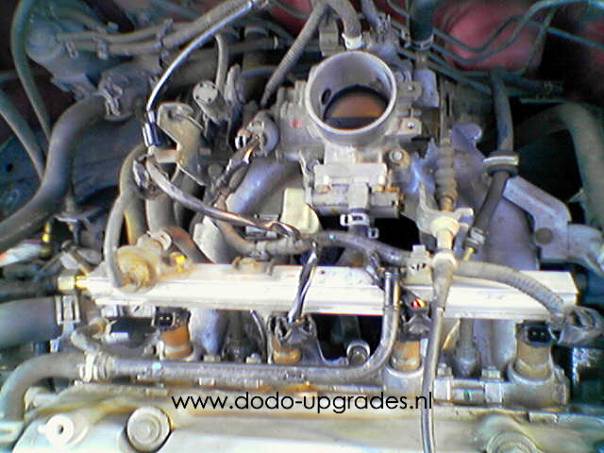 <![endif]>
Messy isnít it? You can see the original routing of the throttle cable and placing of the TB
<![if !supportEmptyParas]> <![endif]>
<![if !vml]>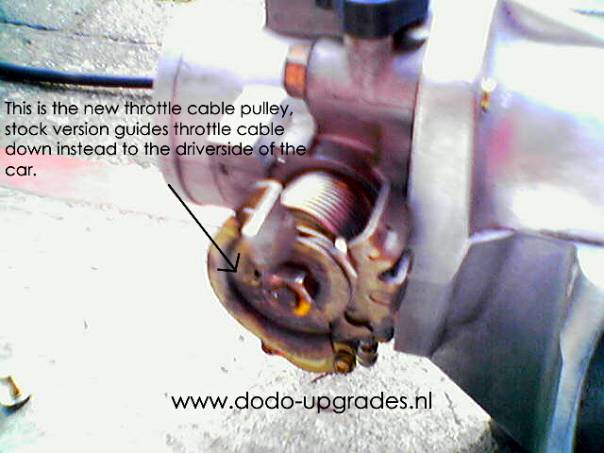 <![endif]>
Throttle cable pulley.
<![if !supportEmptyParas]> <![endif]>
I closed the IACV, but putting on a stock IACV would have worked as well. The gap would have been be closed when unconnected. D14A3 TB is reused because of the RACV needed with the stock ECU. When actually swapping ECUís it needs to be changed (see the OBD1 swap).
<![if !vml]>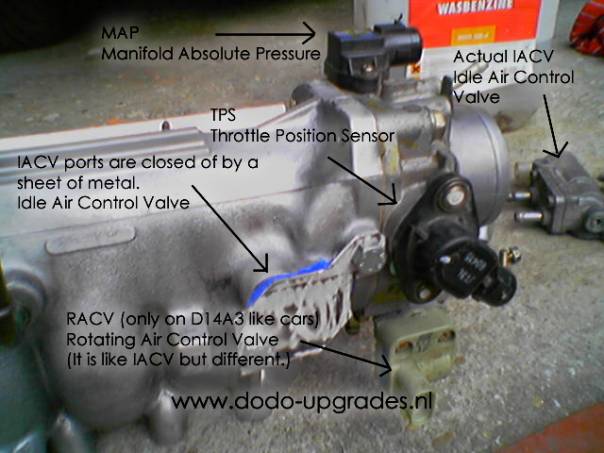 <![endif]>
Closed IACV, D14A3 RACV mounted, TB D14A3 mounted and the TPS and MAP sensors are given.
Put it all back on the engine. See the coolant line running through the IM directly back in the block? Donít switch the TPS plug with the MAP plug, this is a very populair method to make mistakes.
<![if !vml]>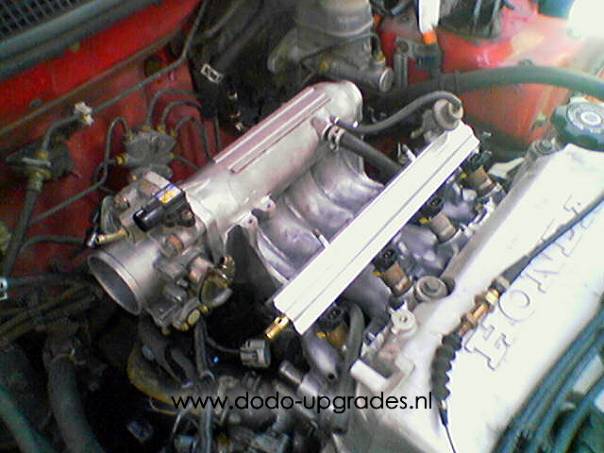 <![endif]>
Looks better doesnít it?
Connect all the hoses. Fuel return line should give no problem. Maybe some vacuum lines can be nasty and needs extension, but everything is connected at about the same place on the D14A3 IM as on the D16Z6 IM. And behold, a completed IM swap. Do not forget to refill the coolant. The idling will be very bad as long as there are bubbles of air in it. This is because the RACV controls the airflow for idling, warm and cold engine, using the ECT (Engine Coolant Temperature) sensor mounted in the block. It senses a wrong temperature as air bubbles pass it. So it might run strange during start up.
<![if !vml]>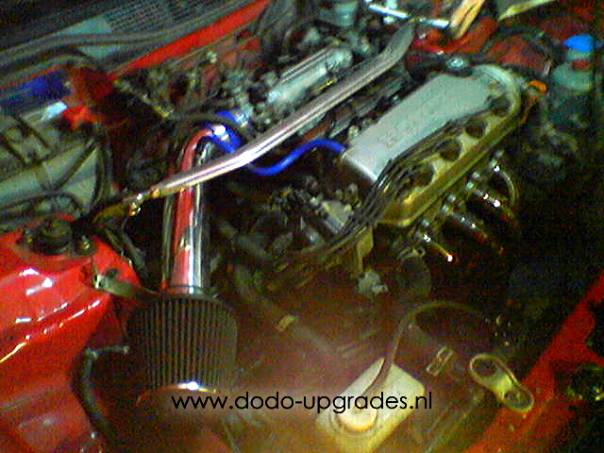 <![endif]>
And the beautiful after!!!
And listen to the sound! - Sound file of actual first run. - For comparison sound from before the IM swap. It might not sound that much else but in reality it is. The files are .3gp files and can be opened using QuickTime. And no, you do not hear the exhaust, the sound is actually from the engine bay. Muffler during these recordings was stock VTi muffler and is very quiet. Any comments are welcome! What do you miss, what do you not understand etc. and I will try to get it here.
<![if !supportEmptyParas]> <![endif]>
Polivios
Between the first time this page was launched and now, various other people have accomplished similar IM swaps and this one, from a Greek D14A4 driver named Polivios, is really worth posting. This is accomplished with a very nice aftermarket intake which seems to run very well. Here are the specs, a photo and a certain dyno result (though Polivios and I are certain it scores 4bhp better after a little SAFC). His results are even better than mine after the OBD1 swap, mainly due to his better hardware I figure.
<![if !supportEmptyParas]> <![endif]>
Specs:
-Honda Civic 1.4 EJ9 sedan D14A4
-118bhp@6500rpm
-137Nm@5400rpm
-H&R lowering springs 4.5 cm front / 3.5 cm rear
-Bilstein sprint dumpers
-Hyperflex polyurethane bushings
-EK4 strut bar
-Kosei K1 racing 14x6íí ultra light weight, 4.3 kg
-Tyres Cooper 185/55R14 H
-Simota air Induction Kit
-60 mm intake tube
-Denso iridium power sparks
-5star 9.5 mm ignition cables
-"sport-spec" valve timing adjustment
-FTE Disc brakes 262mm
-Ferodo DS 2500 disc pads
-Motul RBF-600 Brake Fluids
-Mobil 0W40 engine oil
-Custom cat-back exhaust 50 mm Danelatos
-Dc Sports 4-1 ceramic coated exhaust manifold
-Sebring high flow cat
-3-wire O2 sensor
-JG Edelbrock IM
-APEXi VAFC2
<![if !supportEmptyParas]> <![endif]>
<![if !vml]>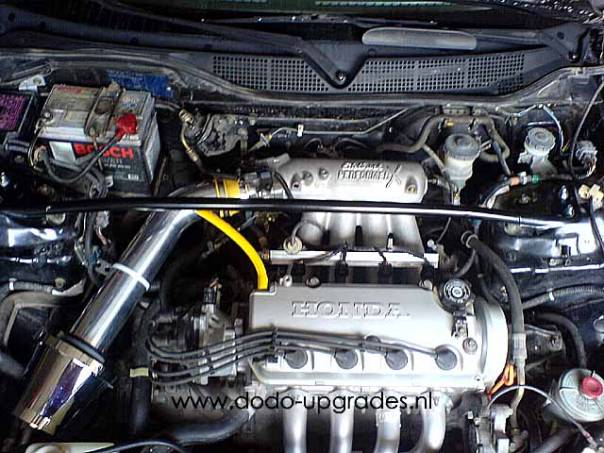 <![endif]>
Polivios engine bay
<![if !supportEmptyParas]> <![endif]>
<![if !vml]>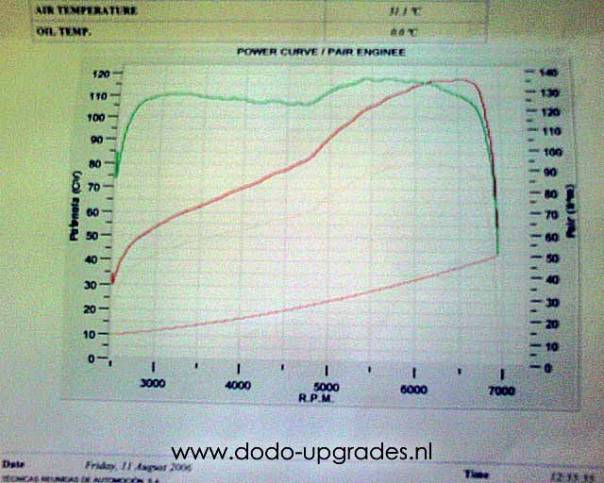 <![endif]>
Very nice going!
Dodo Bizar
<![if !supportEmptyParas]> <![endif]>
<![if !supportEmptyParas]> <![endif]>
Disclaimer: the builder of this website can not be held responsible for any damage done as a result of information on this site. Use the information on this site at your own risk!!!