It took ages, but today, 12 years after my latest proper tune, after having driven the engine over 409.000 km and having sorted out a list of small issues (wheel bearings, alternator bearing, welded exhaust manifold) it finally happened… my D14 VTEC saw a decent retune!
With many thanks to Antilag Performance and Speed Centre Geldermalsen and especially Sylvester and Bert.
Lets start with the results, almost 141 bhp (@7200) and 143 Nm (@6300) from this little 1.4l engine! And as I will reveal later on, the physical engine didn't reveal any aging or wearing. Differences with 2008 are merely setup, especially the fact that I am starting to be an old geezer who just wants his car to be emmisions legal 365 days a year. So this time the tune was done with catalytic converter in place.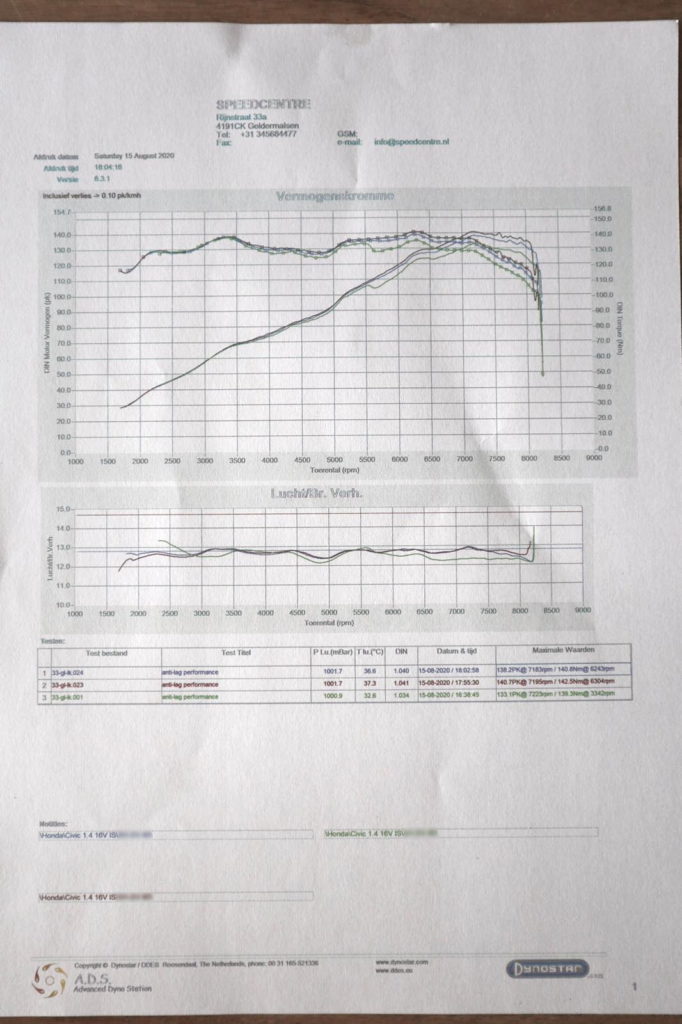 The three lines show how I entered Speed Centre and how I eventually left after retuning with two options. With or without the DB killer (SRS G35 end). I entered with a mapping based on decat, in my experience there is always a big difference in the optimum maps between cat and no-cat setups. This was no difference. So in the end we compared the DB killer and it clearly shows an increasing loss at higher rpms up to 3 hp.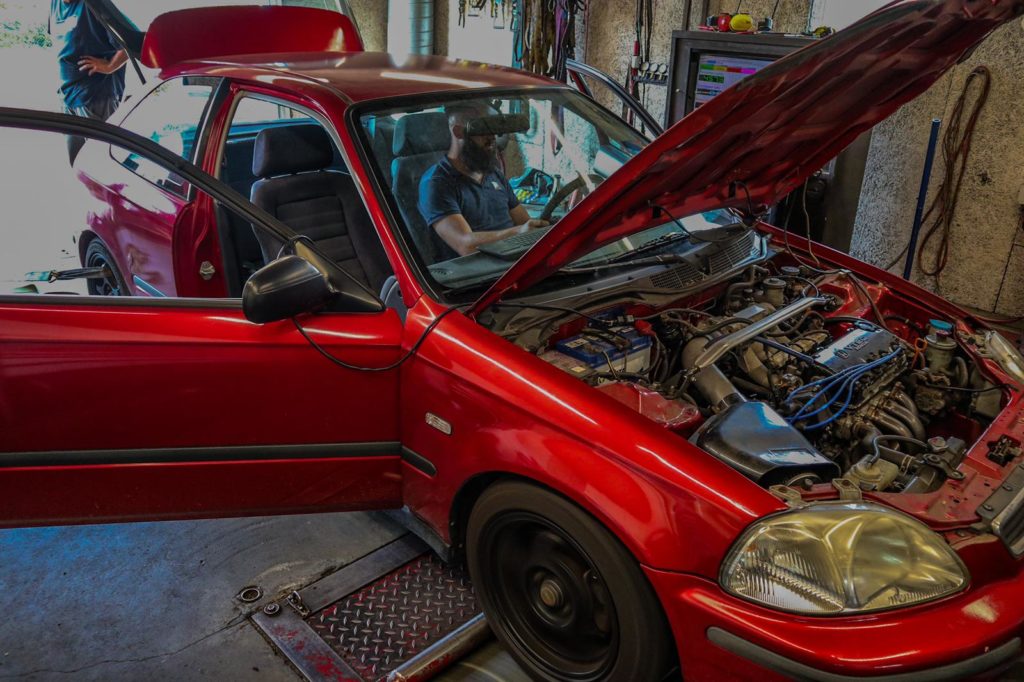 Another comparison I could make was the difference between the tune in 2008 without catalytic converter and now since I did that at the same location. The engine pulls better in low revs with the catalytic converter but looses out in the top end as expected.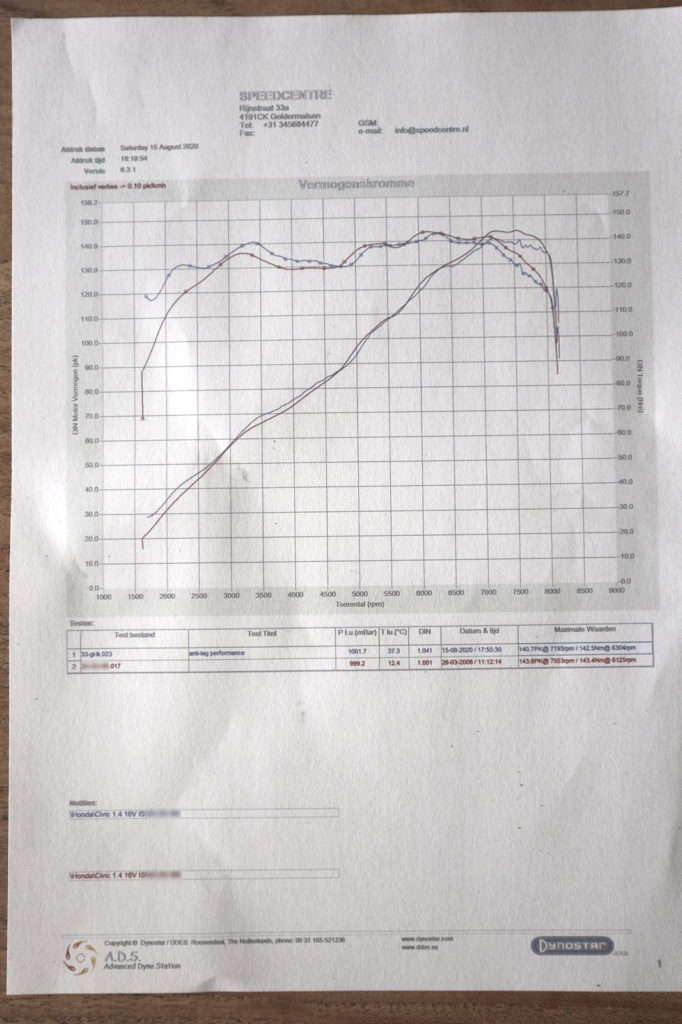 Notice though that the weather was really different during those runs, but still a nice comparison. Happy to see that the D14 still seems strong as ever and that a 100 bhp/liter is possible even with catalytic converter.
Now the question is what will I do next with my setup, I have no idea. I drive it as a daily and enjoy it as it is. For drive-ability I am looking to going turbo, for coolness I am considering getting to 150 bhp NA, but the latter will require headwork and a better exhaust manifolf design is my guess. We'll see…
Thanks to Bert from Speed Centre for his time and dyno and thanks to Sylvester from Antilag Performance for tuning and having to spend way more hours than intended with me. And thanks to the Antilag Performance family who I unintend got to meet!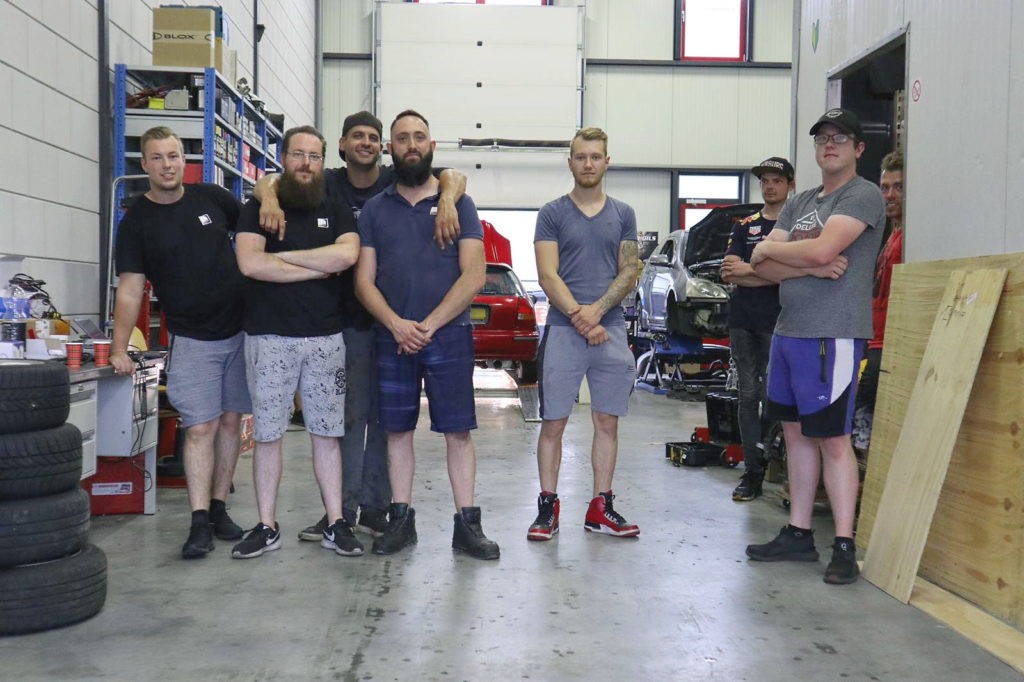 Fun facts:
– VTEC switchover is 6000 rpm
– Non VTEC lobes were by themselves doing 133 bhp without DB killer
Speclist:
-Stock D14A3 bottom
-Simota Aeroform Intake
-8″ K&N filter
-Skunk2 70 mm throttle body
-Skunk2 Intake manifold
-Password:JDM heatshield
-D16Y8 head stock (estimated CR 9.5)
-Skunk2 stage 1 D16Z6 cam (springs and retainers)
-Megan Cam Gear
-D16Z6 cam train and distributor (custom fix to D16Y8 head)
-JCP exhaust header 4-2-1
-Stock catalytic converter
-SRS G35 exhaust system, mid and end
Dodo